Online Booking
Book in real time your stay at Camping La Jolie Rochelle.
Simple and safe, it is the easy solution to plan your vacation or your weekends in our beautiful region of Bellechasse in Chaudière-Appalaches.

Please read our cancellation policy and terms of stay.
Then select

at the bottom of the page to proceed with the reservation.
A 15% discount applies to the off-season, from May 15 to June 14
and after Labor Day till October 10 th 
Per
Without
service
With
services
Day
$32.00
$55.00
Week, One night free
$206.00
$355.00
Month
$375.00
$700.00
Week, One night free
$594.00
$1020.00
Month
$708.00
$1320.00
Administration fee of $ 3.75 per transaction (non-refundable).
(Taxes not included)
Note: Rates effective from January 1st, 2022.
Cancellation Policy: Please note that the deposit required at time of booking (one third of total price) is not refundable or transferable in any moment. However, if notice of cancellation is notified forty-eight (48) hours prior to arrival date (13.00: reference time), the balance payable will not be charged. On the other hand, if the customer does not show up on the day of arrival and without any notice of cancellation given at least forty-eight (48) hours before the date and time fixed for the beginning of the stay, the remaining amount due on the cost thereof will be charged.
Useful information:
a) The arrival and departure time for a camping trip is fixed, in both cases, at 13:00.
b) Camping La Jolie Rochelle applied with rigor and discernment policy curfew at 23:00 in order to preserve an atmosphere of peace and mutual respect among campers stay.
c) Any damage to the rented site or improper use will result in an additional charge of $40.00. Example: degradation of trees, animal excrement not collected, emptying into the firepot, waste left on the site, etc.
Payment method: Credit card – Visa or Mastercard / direct payment

Pricing for visitors and campers'dogs :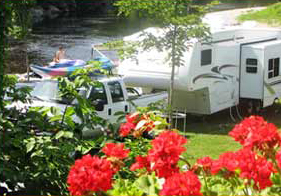 Visitors: $6.00 /day/adult (taxes included) (free for kids less than 12 year old)
Dogs: $5.00 /day/dog – maximum of 2 dogs per campsite.
Please note that each reservation must be registered with the name of the person who will occupy the site and make sure to add his phone number and email address.

---